TOUCHWOOD
Article: CLIMBING DICENTRAS
#HARDY PLANT SOCIETY Magasine 2004
CLIMBING DICENTRAS
Note added 2009. These are now classified as the genus Dactylicapnos not Dicentra.
Note, photograph is poor as scanned from the small-format HPS magasine: original was slide format..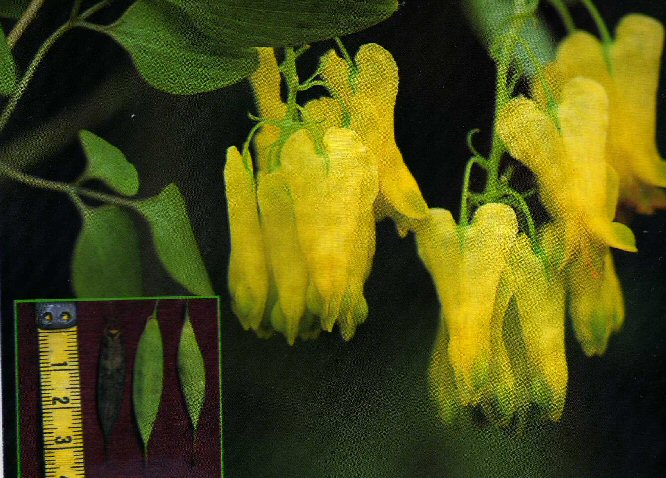 A love affair
It was love at first sight at Plantworld in Devon. The object of my desire? Dicentra scandens, which cascaded playfully and joyfully from an otherwise boring shrub. The delicate maidenhair foliage was beautiful in its own right, but the generous bunches of yellow Dicentra locket flowers were exuberantly produced and attracted my whole attention. All Hardy Planters well know that in regard to floral love, 'to worship from afar' is inadequate: possession is everything. And so it was with me, and soon I, too, had a wonderful Dicentra scandens clambering over the roses and honeysuckle of my front archway. Or did I?
For I was to discover that the naming of this desirable climber is far from easy. I was traveling and visiting gardens in the West Country when I discovered the problem, because half the owners named it Dicentra scandens and the other half were equally definite that their plant was Dicentra macrocapnos. Various methods of telling the two apart were offered....and refuted at the next garden visited! I hired a slide of D. macrocapnos from the HPS library: it looked very much like my D. scandens, and, when questioned, George Parker informed me he did not know the difference either...but would love to know!
The RHS A-Z Encyclopaedia of Garden Plants lists only D. scandens, describing it as having a height and spread of 1m; yet shows a lovely illustration of a plant well exceeding those dimensions! A search of the Internet yielded no help, nor did Alpine-L's archives. This latter is an e-mailing list I belong to, and the archive material concerning distinguishing between the two species left me more confused than ever: it seems many authorities wrongly describe one for the other! However there was also a comment there that Kit Grey-Wilson believed they are the same plant. I also posted a query to the list asking for definitive help. No replies resulted.
Confusion proliferates!
Meanwhile the plot thickened. I grew both types from seed exchanges: the same plant resulted, as far as I could tell. The RHS Encyclopaedia states the flowers of D. scandens to be 'white or yellow', and Chiltern seeds describe them as 'yellow or purple', but no other discovered source suggests anything but yellow, nor has requests through the HPS Correspondence Group for other-coloured plants met with any response. Individual flowers of my plant develop a red-brown staining at the tips as they age, presumably a visual cue to bumble bees that the flower is fertilised and no longer producing nectar. However, didn't my heartbeat quicken in 2000 when the Cottage Garden Society seed exchange offered a pink form of D. scandens and the North American Rock Garden Society exchange, a white form. I was lucky in procuring both types. The pink turned out to be the pink biennial climber Adlumia fungosa: pretty enough but without the drama of the climbing Dicentra. And the white form? It was the annual climbing Dicentra torulosa with pale yellow flowers (see 'The Hardy Plant: Autumn 2002, pp 7 & 8).
Discovering the Truth
I was finally able to get definitive information from the Advisory Service the RHS offers to members. Their reply explained:
Dicentra macrocapnos and D. scandens are currently maintained as separate
species but the differences are very subtle and they are invariably confused.
Kingsley R. Stern's 1961 Revision of Dicentra published in the journal
Brittonia vol. 13, pp. 1-57 gives the best account of the 2 species as well
as diagnostic drawings. If you don't wish to order the whole paper then
pages 46-53 give the relevant descriptions and illustrations.
The main characters are (in order of ease-of-recognition):
D. macrocapnos: fruit capsule 22-29mm long, 5-6mm broad, membranous-walled, tapering at both ends; nectariferous spur crescent-shaped, often with a small peg-like protruberance halfway along; leaflets typically 9-13 veined
(but character described as unreliable).
D. scandens: capsule 12-25mm long, 3-9mm broad, fleshy-walled, relatively
blunt at both ends; nectariferous spur almost straight but with a distinct
terminal hook; leaflets typically 7-8 veined (but character described as
unreliable).
As for the flower colour, D. scandens is described as "yellow to white,
tipped with pink or light purple" and D. macrocapnos as "yellow".
Identification
Wonderful! Now I could begin to identify my plant, as shown. Figure 1 shows flowers, and fruit which start 'fleshy-walled' but mature and dehisce as brown membranous pods. Figure 2 clearly shows the fruit length to be about 30mm, not including the fine and long tapering point at the bottom. So far my plant matches the description of D. macrocapnos rather than that of D. scandens. Lets look at the 'nectariferous spur'. Figure 3 shows the complete flower, and one dissected to show the spur, which is found tucked up high in the broad shoulders of the flower. Amazing to realise that the tongues of some bumble bees are able to delve far enough - from the lip of the flower right up into that spur! And there it is, the 'nectariferous spur crescent-shaped' complete with 'a small peg-like protruberance halfway along'. So all along I have been growing D. macrocapnos, not D. scandens!
Before writing this article I thought to recheck the Internet as several years had passed. I fared not much better until I found one site that actually had a picture of D. scandens, including pods. With the whole world to search on the 'net, there was great satisfaction to find that the useful site was not just a UK one, but actually Welsh, and one of my favourite nurseries: Crûg Farm Plants. I e-mailed them for extra help. Bleddyn Wynn-Jones was able to confirm my findings and offer the following help (summarised): "D. macrocapnos has a slightly larger flower and is somewhat more angular in shape (sharper corners), the foliage differs in having an area of silvering at the base of each leaflet, the seed pod is distinct in being flat and pointed (as a pea pod) and green in colour. Here, D. macrocapnos is a much larger plant capable of forming a huge basal clump of roots 1m across. The flowering season is also distinct, D. macrocapnos flowers for months and can be slow to set seed. D. scandens is similar in colour with us, but generally paler, the seed pods are distinctly inflated and certainly in most of my wild collections turn purple when ripe. The plant is generally smaller to 3-4m (to 10m in D. macrocapnos) flowering for about one month and then setting seed."
My D macrocapnos also has delightfully silvered leaves, and flowers over a long season (preferring to be away from the sunniest sites), but sets seed generously. These definitive differences between the two perennial climbing Dicentras should help prevent continued proliferation of plants and seed under the incorrect names.
A new desire! .…..and a new confusion?
However, Bleddyn continued: "In our experience D. thalictrifolia is very similar to D. scandens, differing only in its foliage, which is more divided and narrower leaflets. May be a forma or a subspecies? You have omitted what may turn out to be the best of the lot. D. lijangense, which is distinct from the rest. It so happens we are introducing it this spring. As a matter of interest Dr. James Compton informed us that all the yellow species are going to be re-classified into a new genus."
Note added 2009. These are now classified as the genus Dactylicapnos not Dicentra.