TOUCHWOOD
Article: Aquilegias
in Hardy Plant Society, Correspondent's Group Magasine, 2003
Aquilegias
Note, some changes have been made, notably the inclusion of many more photos.
I enjoyed Valerie Sharman's article in the last newsletter, as I, too, love Aquilegias (Granny Bonnets, Columbines). Is there a better flower, in all its diverse forms? I think not, but there are people who think me somewhat biased! I have about 100 different forms currently, and about 40 or so extra different seedlings which should flower for the first time next year. I'm applying for National Collection Holder status, but understand it could take some time. Ah well, gardeners are used to waiting, aren't they?
And waiting is what I'm doing until those new seedlings flower, as with Aquilegias you can never be sure exactly what the offspring will look like. Part of the reason is the bumbles who so effectively carry pollen to other forms, and therefore many seeds are hybrids and not similar to the seed parent. However, even if the flowers have been self-pollinated that won't ensure similarity as there may well be recessive genes which, for example, explains why a pink flower could have a white flowered offspring. But then again, I've never yet seen a 'bad' Aquilegia and I always want to keep all the many diverse forms that arise.
Flower types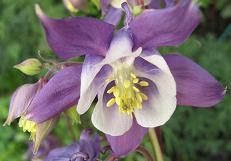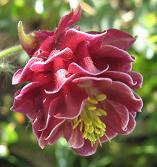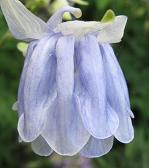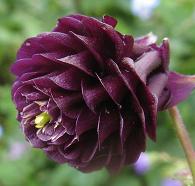 There are single colours and bicolors, single flowers and doubles. There are so many forms of doubling to enjoy, for example, there's lacy doubles or pleated ones. There may simple doubling of the five petals to give ten, or many-fold doubling; and each of those petals can have others inside it (if it were a Primula it would be described as 'hose-in-hose'). In the 'Pom-Pom' forms this type of multiplication of petals is carried to extreme so that the flower head is almost spherical.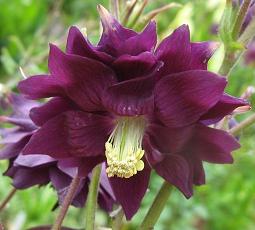 A totally different flower form is the flat-faced clematis-flowered ones, known as the 'stellata' group. Then there's the Barlow forms, where the sepals are manyfold doubles and open rather like a regular, pointed-petal double celandine flower. Nora Barlow is the old-fashioned matriarch with beautiful sepals in cream, shaded with green and pink.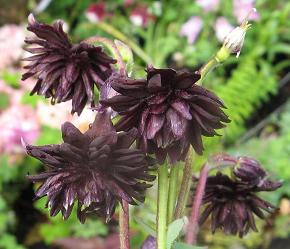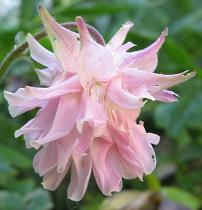 Perhaps the most desirable is 'Black Barlow' with the darkest possible flowers. Sometimes such forms become rather elongated in outline, rather tatty compared to the true Barlow regular form. They are not unlike a feather duster, really, and very visible in the garden……I also call them the 'tatties' …until anyone else can inform me differently!
Self-sown delights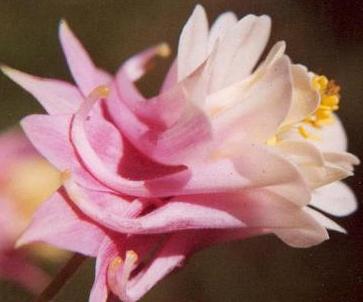 Like Valerie, I have also had self-seeders that have given me something special. I nearly threw away a pink tatty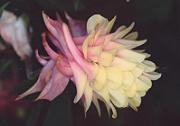 . I'm so pleased I didn't as the next year she changed garments (still with a few tatty flowers), to a pink-and-white, large, scented long-curved-spurred double. Wow! The third year (now) she changed somewhat again, with more hose-in-hose-type doubling (up to 7 layers) and the longer spurs were less obvious. Seeing this, I felt that I should have called her 'Chameleon', but I'd already decided on 'Flamboyant'! I'm still awaiting her first offspring to flower so I don't yet know how they'll perform, but I live in great hopes. (UPDATE: They are also magnificent, with many just like their 'Flamboyant' parent.)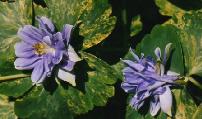 I rather like some of my flowers that have streaky milky-blue flowers in various shapes. I have one that had evidently crossed with one of the variegated-leaved 'Woodside' ones. The flower is somewhat like a tatty clematis-flowered type and shows up well in the garden. I've decided to call this one 'Clyne Woodside' as we live next to Clyne Woods. I have other, equally captivating, self-sown delights, but will leave those to describe another time.
Seeds to swap
Do you also enjoy sowing and saving seed? If so, I'd love to swap seed with you……and especially with you, Valerie, I'm already drooling over those pom-pom ones you described last time! I have a list of about 150 items, with 50 entries for Aquilegias, including some special mixes such as doubles or bicolored ones.
-Carrie Thomas-
Article update: Aquilegias
in Hardy Plant Society, Correspondent's Group Magasine, 2007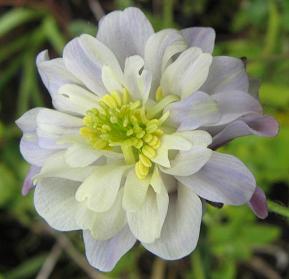 As always, its a fantastically exciting time in May when the 1000 or so aquilegias that I've grown from seed and potted up over winter starts to flower. I continue to be amaze by the new flower forms that I'd never even dreamed of. This lovely lilac double is a good example...where's the aquilegia shape? Yet isn't it good? ...and it's scented! I had 4 plants from seed that I kept last year after they flowered and 2 survived to this year...and are looking strong and healthy, I'm keen to see what the next generation will be like when they may have crossed with other forms in my collection.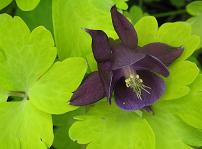 Besides unusual shapes and scent I'm also keen on golden or variegated leafed forms as they add so much more interest over a longer time. I particularly like a single dark purple-almost black flowered form that hangs its head very elegantly over its golden leaves. Offspring selected for their gold leaves at seedling stage have come through with a high percentage like the parent and others with dark ruby or marbled blue flowers. I think I'll be naming this one 'Elegance'.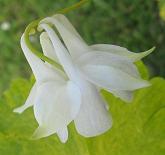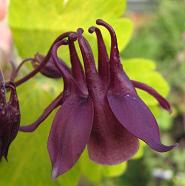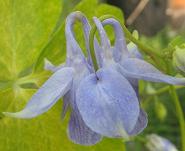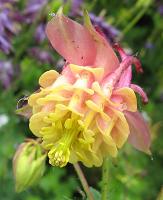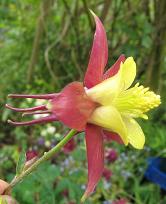 Visitors to my collection all seem to love the huge, long-spurred American aquilegias, such as the yellow chrysantha and the hybrid 'Songbird series'. Stunning though they are they tend to act as biennials and die after flowering. However, crossed with some of our double aquilegias, we can have double forms that are tending to be perennial. Here's a lovely pink and yellow pompom form (that tends to open out to a well-formed double) that is causing a great deal of excitement with visitors...and myself! I'll have seedlings of it flowering next May and look forward to seeing even more variation then.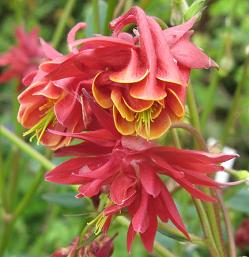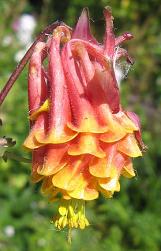 Another plant that attracts visitors is a tall 5' hybrid with red and yellow deformed flowers, with flowers differing a great deal on this one plant. It produces no pollen so I wondered if the hybrid offspring would be any good. They are FANTASTIC, I've kept about 80% of what I grew...that's a very high percentage percentage for me. Most seedlings are red and yellow doubles, but also there's been a yellow double and a deep red pompom with a thin white edge to each petal. Now, will they prove perennial or not?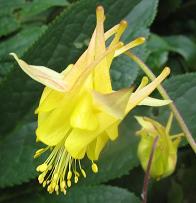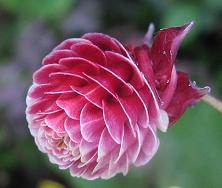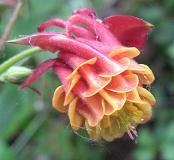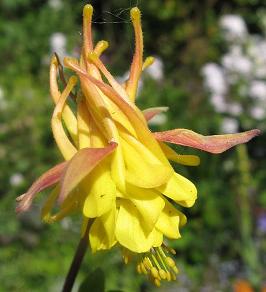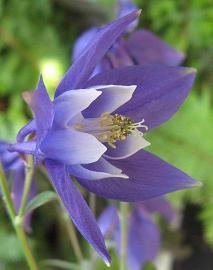 A new purchase this year at a rare plant sale was this blue-and-white beauty with interestingly pointed inner petals. Now isn't that different? Wonder what the next generation of that will show.
Sometimes none of my carefully tended seedlings flower as they are supposed to. I tried for 5 years before I got the correct 'Adelaide Addison' with her deep blue and white frilly double flowers. However, sometimes the 'not right' seedlings are as good or even better than what I'm looking for! For 2 years I grew 'Adelaide Addison' from HPS Correspondent's Group seed and instead got some very double flowers, sometimes in white and blue but often striped white-and-blue petals with a shape that I tend to describe as a feather duster. The photo shows two less-spiky versions of the flowers, but well shows the colour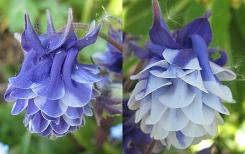 differences between flowers on the same plant. Did you supply the seed (must have been 7-8 years ago now)? I'd love more, either from the original supplier or anyone who grew plants from it. I'm down to the last plant and would like to increase my gene pool of this again.
I'm always looking for something that's different. Please contact me if you can help, especially of big scented doubles that are a result of crossing our cultivars with the American sorts. But ANYTHING interesting is welcome! I'd love to swap seed with you if you've got something that I've not got yet. Photos of your unusual flowers would be especially welcomed.