TOUCHWOOD
Wedding Favours
Special seeds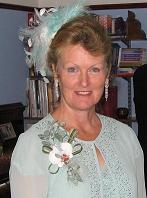 Let me help you make your special day memorable over many, many years. These seeds are from plants that are unusual, rare, beautiful and long-lived. I especially choose seed that is easy for beginners to grow, yet give years of reward as they continue to bloom and remind people of your wedding day.
SEED CHOICE
Many of the items from my seed-lists are suitable. I definitely recommend a packet of mixed Aquilegias, well, I w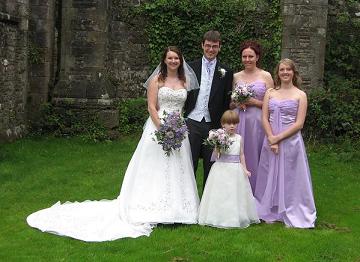 ould, wouldn't I! Viola cornuta and Geranium pyrenaicum will start to flower in about 3 months from a spring or summer sowing....that's remarkable! There are several perennial plants that should give a few flowers during their first year from seed, such as the lovely musk mallow. Everyone seems to enjoy the cheery flowers of bellflowers and verbascums, the plants are easy to please as well. What of a more unusual choice: a golden leaved grass; hardy geraniums with dark foliage or with splashed flowers; feathery edible bronze fennel or a climbing Dicentra?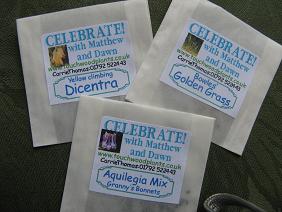 Then again you may decide to 'say it with flowers', perhaps Bridal Wreath, or be daring and go for Passionflower!
Seed availability changes from year to year and season to season. By now you'll already know that weddings need to be planned well in advance! Your choice will be determined by what is available ... or what will be harvested in the coming months. A year's notice should guarantee anything you want! However, many seeds from my list wouldn't be available in large enough quantities for, eg, 100 wedding guests.
PACKAGING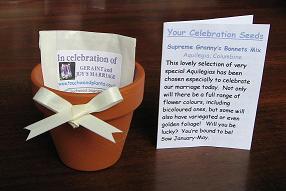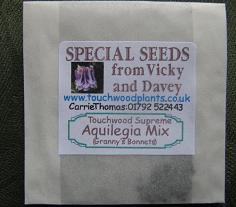 The seed is packed in small glassine envelopes. The approximate dimensions are 57mm square. Personalised labels on each packet tie in with your wedding theme colours, and you can choose a message as part of the labelling. There is a small, folded leaflet for each guest giving sowing instructions.
(Note, the mini-pot and bow are not included, they are just one idea for presenting the gift)
PRICE
Price depends very much on volume, both the total number of packets that you want, and the amount of seed within. Usually I put fewer (but enough) seed in each packet, so you will be able to save significantly. It is likely that the packets will work out less my normal price, even though there is a lot of work involved in the personalisation and the printing of the little leaflets.. The more packets, the lower the cost per item.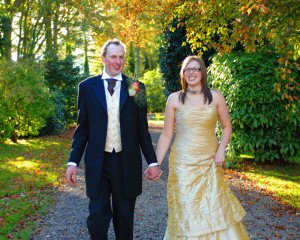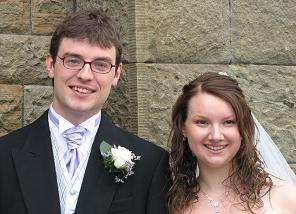 "Thanks for doing the seeds Carrie, you have been fab! Thank you again." "Dear Carrie, you're a total star, will send you pics of the wedding when we get back from honeymoon."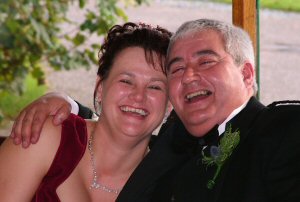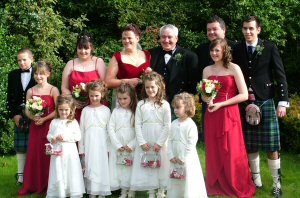 PRESENTATION
How you choose to present these favours to your guests will likely depend on your own ideas and preferences. When my son Geraint got married, we chose to display them in some small 5cm ornamental terracotta pots (from Rainbow). Here's some ideas if you decide to use such pots: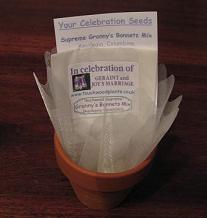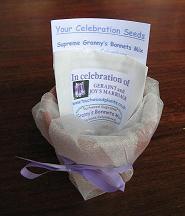 Peter and Mary chose some lovely translucent gift bags, with the addition of a pendant in the shape of a red heart.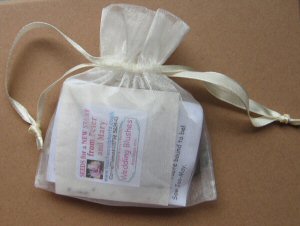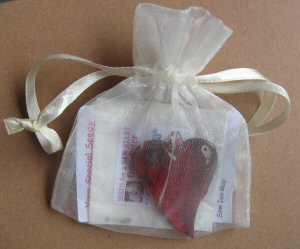 SAMPLES

When you order a sample, you will be sure of exactly what you are getting, AND have a chance to 'tweak' anything that you might like to alter. For £3 I will send you 2 packets of seeds made up to your specifications, ie with your preferred wording and colour scheme. Note, there is a fairly limited range of printed colours available through the system that I use, so I'll often do two different colours (or more) and let you choose the best match. Even if you don't decide to order, you will have a couple of packets of really special, personalised seeds to grow yourself! If you DO decide to order, then you will get the £3 refunded on wedding favour seed orders of £50 or more.

I can also send you a sample of the above mini terracotta pot if you'd like. That will be an extra £1.30 including postage, as postage costs are so high on such items. Price correct September 2008, to go up in line with postage charges.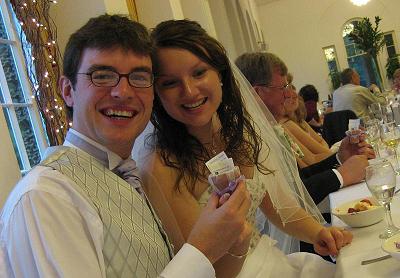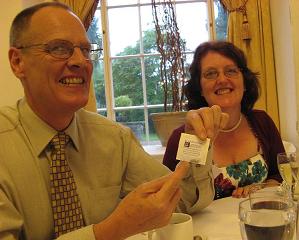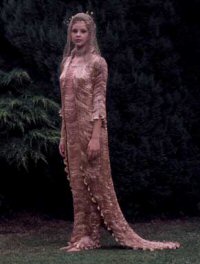 FASHION DESIGNERS FROM WALES
Using beautiful, beautiful fabrics, created here in Wales, these couture creations are designed and crafted to flatter and flow. Enjoy Charles & Patricia's designs, as worn in the film 'Wings of a Dove', as well as by celebrities and royalty. Click the picture to go to their wedding page.